Recipe Ideas from Our Family to Yours…
Scroll to the bottom for a listing by category from Appetizers to Desserts! Bon Appetit!
Hungarian Style Goulash
Looking for something new and delicious the whole family will love? Enjoy this rich and flavorful Hungarian Style Beef Goulash featuring super tender, slow cooked beef, potatoes, onions and a beefy broth packed with roasted red peppers, tomatoes and plenty of sweet paprika.
Paprika is far more than a dusting of color on top of potato salads and deviled eggs. Fresh paprika has the full flavor of the peppers it was ground from. Originating, like all chili peppers, in the Americas, paprika peppers are now strongly associated with Hungarian cuisine. Paprika can range in flavor from mild and sweet to fiery hot, and is used heavily in Eastern European cooking.
Hungarian Goulash recipes are a lot like American stews or chili in that each one is a little different. While Goulash is basically a simple beef stew, it has a completely different flavor from the American style beef stew. And don't confuse this with American Goulash, which is a noodle loaded ground beef recipe that looks more like Hamburger Helper. Hungarian Goulash is a simple dish typically made with just meat and potatoes cooked in a rich broth well seasoned with plenty of sweet paprika. I stuck with the authentic plan and skipped the carrots sometimes found in American stews.
Our Beef Goulash is pretty fantastic as is, but I've noted some suggestions to vary your craft if desired:
Feel free to add carrots at the same time as the potatoes. We didn't use them here but probably will with our next pot.
I've noted a wide range of beef broth for this recipe, from 3 to 4 cups. Depending on the size of your roast, how many potatoes you use, whether or not you add carrots, etc. you may only need 3 to 3 1/2 cups of broth. However if you need additional broth or if you prefer a soupier stew, add the full 4 cups.
While researching Hungarian Goulash, I found several recipes that use beer in place of some of the beef broth. Sounds good to me!
"I never see any home cooking. All I get is fancy stuff."
~ Prince Phillip, Duke of Edinburgh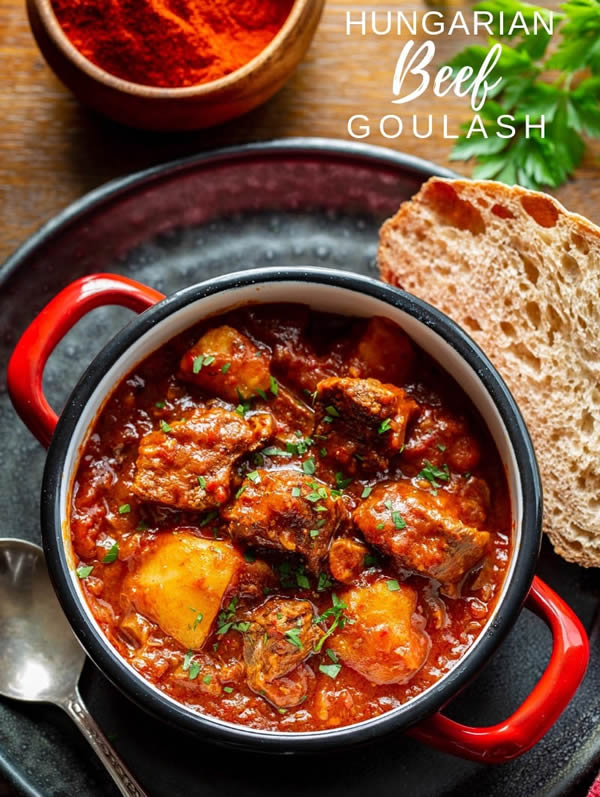 You will need Adobe Reader to print these recipes. Click the link to download and install the FREE Adobe Reader.